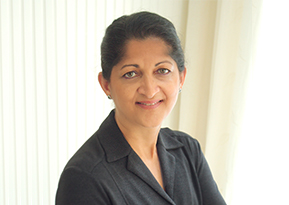 PLG Partner Ayesha N. Khan's practice focuses on appellate litigation in state and federal courts nationwide. She writes a monthly column for The Daily Record, Maryland's statewide business and legal newspaper, covering practical issues relevant to trial and appellate litigators. Her most recent column is reprinted here. Ms. Khan can be reached at akhan@potomaclaw.com or 202-836-7136.
Writing is a lawyer's stock in trade. Poor syntax, ambiguous terms, and grammatical errors can sabotage a contract, a last will and testament, or a legal brief. As an appellate litigator, I am especially compulsive about ensuring that my writing is both clear and precise. I also try to file briefs that respect judges' views on formatting conventions and other issues about which reasonable people can disagree. I need to take advantage of every tool in a litigators' kit.
Several years ago, when I was a deputy chief in the appellate section of the Civil Rights Division at the U.S. Department of Justice, I had the good fortune of attending a legal writing seminar presented by Legal Writing Pro's Ross Guberman, whose advice is informed by a survey of thousands of judges of all stripes — state and federal, trial court and appellate — about a host of writing-related issues.
What the judges had to say is relevant not just to appellate lawyers, but to all litigators — and much of it is easy to implement:
Put citations in the text, not in footnotes.

Bryan Garner, a legal writing icon, has argued that putting citations in the text interrupts the flow, so he favors putting them in footnotes or endnotes. Much of what Garner has to say is spot on but, on this issue, he has it wrong. Judges want citations in the text. They want to be able to assess the strength of your authority without constantly looking up and down and losing their place in a document.

For emphasis, use italics or bolding, not underlining or capital letters.

Three-quarters of judges want advocates to use bold or italics for emphasis, with most preferring italics to bold. Most judges do not like underlining and, whatever you do, do not use all caps. Also, try to use emphasis sparingly, as repeated use conveys that the balance of the brief can be disregarded.

Don't refer to the parties as plaintiff/defendant, appellant/appellee, or petitioner/respondent.

Some courts require you to refer to the parties this way and, by all means, comply. But when you have a choice, judges prefer that you use the parties' names. How many times, in reading a legal brief or court opinion that refers to the "plaintiff" or "defendant," have you had to turn to the cover page to understand the discussion? Using the parties' names spares the reader this inconvenience.

Avoid legalese & verbose introductions.

Good riddance "aforesaid," "wherefore," "whereby," "heretofore," and "hereinafter." And there's no need for lengthy introductions that state the obvious and reiterate what the title of your document reveals. Dispense with "Plaintiff, by and through undersigned counsel, hereby submits its Reply Memorandum in response to ____, as well as the attached Memorandum of Points and Authorities." Speak in common English and cut to the chase.

Use that Oxford comma!

The Oxford (or serial) comma is the one that appears before the "and" in a list of items. I have argued about its use with many people, including with my parents, Ruth Bader Ginsburg and Richard Attenborough. (If I had used the Oxford comma, you wouldn't have to wonder whether I am the love child of the Notorious RBG and the famed British actor. I am not, but the point stands.) Although The Daily Record, like most newspapers, does not favor the use of the serial comma, judges do.

Put two spaces after periods, not one.

Including only one space after periods is common in contemporary writing (and, usually, in newspapers), but judges are not the hippest bunch. Because legal writing often includes periods even within sentences and clauses (g., id., Fed., etc.), I can understand why judges would want something more substantial to mark where one sentence leaves off and another one begins.

Dispense with "respect."

Judges find phrases such as "respectfully submits," "respectfully requests," and "with all due respect" to be cloying rather than respectful. As one judge put it, "they communicate nothing, except potential insecurity about the argument that follows."

Don't tell the court that your opponent is an imbecile, show it.

Calling the other side's arguments "frivolous," "disingenuous," "specious," "laughable," "ridiculous," or "sanctionable" makes you look defensive and hyperbolic. Judges don't care that your opponent is stupid; they care what the law requires.
There you have it: with a few simple tweaks, you can transform your briefs into documents that judges will actually enjoy reading. Okay, maybe that's an overstatement, because there's a lot more to writing than what appears on the surface. But some of the judges' other preferences— regarding persuasive strategies and the use of case law, for example — are more challenging to implement. I will address those (and other) issues in future columns in the Daily Record, so please stay tuned!
Related Attorneys