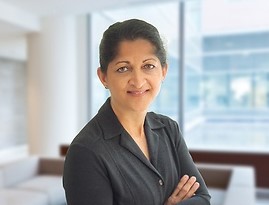 PLG Partner Ayesha N. Khan's practice focuses on appellate litigation in state and federal courts nationwide. She writes a monthly column for The Daily Record, Maryland's statewide business and legal newspaper, covering practical issues relevant to trial and appellate litigators. Her most recent column is reprinted here. Ms. Khan can be reached at akhan@potomaclaw.com or 202-836-7136.
---
Most of my clients are happy to pay my fee for handling an appeal. After all, I work for a next-gen law firm that offers individual and corporate clients affordable flat rates for appellate representation of Big Law caliber. But that doesn't stop some potential clients from requesting a discount. They claim that their appeal is simpler than most or that I can abbreviate the briefing process by repurposing a summary-judgment or post-trial brief. Or they offer to do some of the work themselves. One especially frugal individual asked if he could pay me a nominal fee to slap my name on a brief that he had written. Of course, I politely decline such invitations, explaining that I can't stand behind other people's work, much less pretend that it's mine.
I was reminded recently of the wisdom of that policy when I came across the Seventh Circuit's decision in McCurry v. Kenco Logistics Servs., LLC, 942 F.3d 783 (7th Cir. 2019). Edith McCurry sued after she was laid off by Kenco Logistics, which operates a warehouse of the well-known candy maker Mars., Inc. She represented herself, filing two rambling complaints. The district court later dismissed some of her claims and then granted summary judgment on her remaining claims after admitting all of the defendants' factual submissions as uncontested because McCurry had not complied with a complex local summary judgment rule.
McCurry retained counsel and appealed. But on appeal, her counsel did not challenge the judge's decision to enforce the local summary-judgment rule, so the uncontested record contained no evidence to support McCurry's claim. The Seventh Circuit thus rightfully found her appeal to be frivolous.
But the patently frivolous nature of the appeal wasn't the only thing that troubled the court. The court was even more concerned about McCurry's lawyer's submission of "a bizarre appellate brief laden with assertions that have no basis in the record and arguments that have no basis in the law." Indeed, the court continued, the brief was "chock-full of impenetrable arguments and unsupported assertions, and it is organized in ways that escape our understanding." Ouch.
The court provided examples from this "monstrosity of an appellate brief," most of which are downright cringe-worthy:
McCurry's brief sought review of a variety of "interlocutory orders," including her own Amended Complaint.
The brief invoked res judicata, collateral estoppel and judicial estoppel, none of which was even remotely relevant or had been asserted below.
The brief included a section entitled "GAMESMANSHIP," which contained a single sentence: "Defendants have been 'gaming' the system."
The brief contained many sentences like this one (all errors in original):
McCurry experiences a change in fringe benefits; harsher scrutiny; failure to be promoted; lack of opportunities; lack of professional standing; economic sanctions; hostile work environment that led to an employee being shot on the premise, various verbal and physical assaults of African-Americans by Caucasian employees of use of gun violence, vehicular assault, amongst other forms of violence, the ever looming threat that a racially motivated altercation or riot may ensue and physical damage to McCurry's auto amongst actions/activities/conduct.
At the oral argument, when the court confronted him about the inadequacy of his brief, McCurry's counsel explained that he is a "solo practitioner" who tries "to get the help of…clients and whoever can provide help to [him] and then "merges that information." I take that to mean that the brief had been written by his client.
The court wasn't buying it: "Bad writing does not normally warrant sanctions, but we draw the line at gibberish." The court issued an order to show cause why McCurry's counsel should not be sanctioned and directed the clerk of court to send a copy of its opinion to Illinois bar counsel.
I feel bad for McCurry's counsel—both because he was in way over his head and because his predicament resulted in a public drubbing. His story is a cautionary tale about the need to decline work that we cannot do well and to vet everything we sign.
But I feel even worse for McCurry, who was thrown out of court because she failed to comply with a complex local procedural rule that was adopted to supplement the already-complex Federal Rules of Civil Procedure. McCurry's pleadings may have been obtuse, but so are the rules that she was tasked with navigating. McCurry suffered because she lacked the means to hire a trial lawyer to decipher the rules for her. And she suffered yet again when the only lawyer she could afford on appeal was one who doesn't write his own briefs.
Related Attorneys