We believe that diversity, equity and inclusion are fundamental to the success of our firm. We further recognize that a diverse workforce with a wide variety of perspectives will best serve our clients, who differ by industry, geography and culture.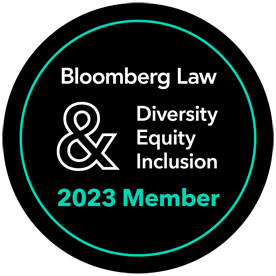 We are proud to have been named, along with Google, Facebook, and Starbucks, as

one of 20

innovative companies

in the crucial areas of women's advancement and work life integration.
.
We are deeply committed to fostering a culture of diversity, equity and inclusion that embraces the uniqueness of each of our attorneys and support staff. Our commitment extends beyond racial and ethnic diversity to include support for the LGBTQ+ community, and we proudly celebrate our LGBTQ+ colleagues and clients in the community. Because of the non-traditional model of our firm, which promotes flexible working arrangements and fair and transparent compensation, we are able to attract top-notch talent regardless of race, gender, age, religion, national origin, disability, sexual orientation, or other protected status.
We are proud that our firm consists of experienced attorneys with rich and varied backgrounds, knowledge and skills, and believe that those different backgrounds make our firm stronger. We were honored to be named to Bloomberg Law's Diversity, Equity & Inclusion (DEI) Framework in 2022 following recognition in its inaugural edition in 2021 as one of only 28 U.S.-based law firms selected for the award. The firm is also honored to have achieved the Mansfield 5.0 Certification Plus in 2022 which recognized the firm's measurable actions to boost the representation of historically underrepresented lawyers. We will continue to implement strategies, as well as dedicate our efforts to recruit, hire and maintain a diverse workforce.